Get answers to your questions about Terryberry's championship rings and awards,
If our FAQ doesn't cover the information you were hoping to find, simply contact us and we will do our very best to provide the information you need.
Learn More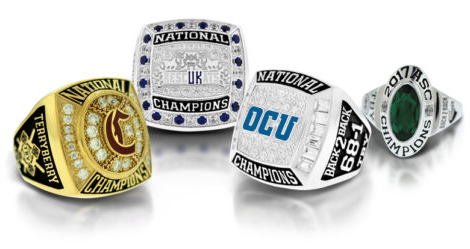 How long does it take to get the rings?
Standard lead time is 8 weeks from the time the order is entered. Center stone rings are closer to 10 weeks.
---
What metals do you offer?
Sterling Silver, 24k Gold Plated Sterling, 10K Gold
---
We are working with a smaller budget, can you help us?
We do have an option for this, please inquire here.
---
Can my ring be re-sized?
We can re-size up to .5 a finger size larger.  Anything over .5 a finger size requires a new ring be made and costs incurred.  We can not decrease a ring's size.
---
Do you have pricing listed?
Because all of our rings are custom designs, we are not able to list a specific cost until the ring design is put together.
---
What is an average cost?
Cost is dependent on several factors including size, design, # of rings, metal, etc. We have options available for all budget ranges, please inquire.
---
Is there a minimum order?
There is a 3-ring minimum. Orders of 11 or more receive the best pricing.
---
Can we set up an order form for individual team members to order?
Yes, we can provide this custom order form to your team members.
---
What sizes do you offer?
Anywhere from Small to 5XL. See our gallery to view examples.
---
Why should we choose Terryberry?
Reliability = over 100 years experience
Highest Quality = handcrafted
Customer Service = dedicated specialist at all times
Stress-Free = full lifetime manufacturing warranty
Dependability = Family Owned
Do you have additional questions? We'll do all we can to answer them thoroughly! Contact us.
"I have used 3 different ring companies for my team's championship rings, Terryberry is by far the best. The rings are high quality and reasonably priced. The customer service I have received from my rep, Nick Phillips, is the best I have seen from any business."

Andy Kaplan
Head Women's Soccer Coach
Reinhardt University