An Established Partner with a Proven Reputation
Founded by Herbert R. Terryberry in 1918, Terryberry began as an award manufacturer, crafting high-quality recognition awards and recognition jewelry in our manufacturing facility in Grand Rapids, Michigan.
The company is rooted in a tradition of quality and personal service. The company is still family-owned, now in its 4th generation under the direction of Managing Partner, Mike Byam. We are proud to provide our clients with worldwide support and the personal attention of a local team of commemorative award experts.
With over 25,000 customers of all sizes, we have worked with a full spectrum of teams and organizations.
View Customer Testimonials
---
Quality & Manufacturing
Every one of our championship award rings tells a story. What story will your championship award ring tell?
Each of Terryberry's championship award rings is unique, showcasing your team's logo, your name and ultimately highlighting your achievements. While no two Terryberry rings are alike, they all share in our meticulous craftsmanship, attention to detail, and our commitment to providing the best in customer service.
Each and every Terryberry award ring is backed by a lifetime guarantee that covers any workmanship-related failure. We take great pride in what we do and it shows.
Terryberry has a long-standing relationship with Traditions and Bill Wright (East Coast contact) whose knowledge, experience, and relationship management spans years.
Learn how to get started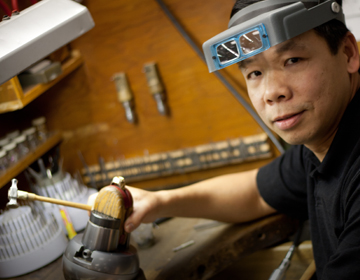 Why should we choose Terryberry?
Reliability = over 100 years experience
Highest Quality = handcrafted
Customer Service = dedicated specialist at all times
Stress-Free = full lifetime manufacturing warranty
Dependability = Family Owned
View Videos
"Simply the best company that I have dealt with in 15 years of working in the sport industry. Very professional, sincere and honest company that authentically cares about you as the customer and places "you" in front of your business. Unparalleled product service that helped UNOH celebrate a very memorable moment. Terryberry not only hand crafts their championship rings, but they stand behind the entire process. From design conception to product delivery – Terryberry hands down was the right decision for us and our baseball program."

Kory Hartman
Head Baseball Coach
University of Northwestern Ohio